What Content Management System Should You Use?
Your CMS Can Make A Huge Difference.
The Content Management System (CMS) that you choose to build your website on can make a huge difference.
The right CMS should be easy to use, but also provide all of the essentials you need in order to scale your business.
Because there are so many content management systems you can choose from it's very important to do your research before picking one.
Below we talk about what your Content Management System should do, what the popular options are, and other little things to know before choosing a CMS.
For Free Website Marketing Tips Just Sign-Up For Our Mailing List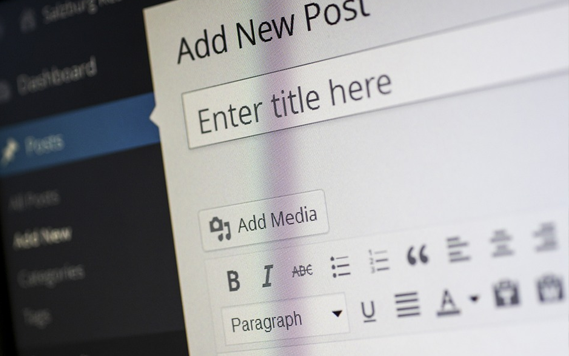 What Is A Content Management System (CMS)?
A Content Management System is a computer software, or application that is used in order to develop, build, and manage your website.

Content Management Systems usually allows users to use a WYSIWYG editor in order to easily create content therefore you don't need to know HTML in order to use the CMS (Although Highly Recommended).

Building your website with a content management system is pretty much the standard because without a CMS organizing, and creating the content on your website will be tedious and coding will be involved.
What Are Some Popular Content Management Systems (CMS)?
Because there are so many different content management systems, and many that are made for a specific industries, it's hard to know each CMS.

That being said, here are some of the most popular CMS platforms today:
General CMS
Wordpress
Shopify
Squarespace
Wix
Drupla
RV Industry
Car Industry
Why Should You Use A Content Management System?
Using a content management system when you're building your website allows you to easily create, edit, and manage each page on your website.

These handy tools allow the user to add pictures to their webpage, change the look of your page, and even custom code if you deem it necessary, all in a simple to use interface. Using a CMS makes changing your website much more streamlined, and easy to do.

Another great advantage to using a CMS is they usually have a variety of plugins, extensions, and add-ons that you can use. These include things like:
Social Media Share Buttons
Payment Gateways For eCommerce
Tracking Plugins
User Profiles
SEO Plugins
Live Web Chat
More
What Does A Good CMS Have?
A good content management system should:
Have an easy to use editor therefore with the proper knowledge almost anyone can change/edit/add webpages to your site.
Be very simple to use. Some CMS platforms are very rigid, and outdated so if you're paying for it make sure to get a demo of the CMS first.
Friendly SEO code or plugins that allow you to easily control your SEO for each webpage.
What Content Management System Should I Use?
After working with many different CMS systems here are the best, and easiest to use:
Wordpress - General Websites/Blogs
Shopify - eCommerce Websites/Stores
Squarespace - General Websites
Drupal - Advanced Web Builders
Resources & References That You May Like Based On Above.
Now it's time for a celebration because you're done with this resource!
In the meantime... We would love to hear what you think about this resource, Leave us a comment below and let us know your thoughts!