What Is A Social Media Marketing Plan?
A Social Media Marketing Plan ...
Should engage your audience, create trust, drive business and grow traffic. Most marketing blogs will define a social media plan as a comprehensive strategy. Which is true, but if you're fairly new to social media this probably sounds vague.
So to clarify, a social media plan is a guide that you create to achieve a goal. The most important pieces of this guide are the steps, information and actions needed to get to the main goal. The main information being which platform you want to use to the kind of posts you want to publish daily.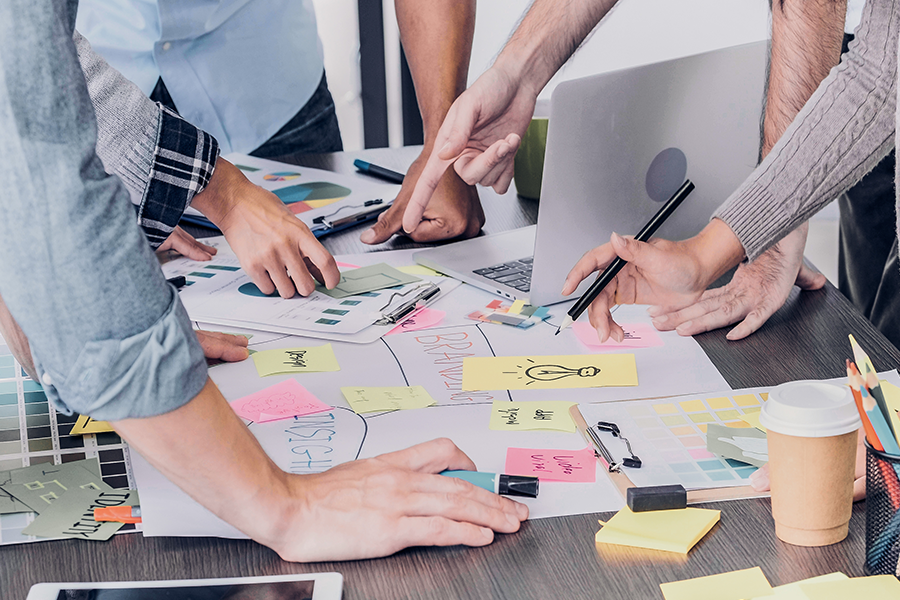 Most companies develop a method that usually involves different post types (i.e. photos, videos, graphics etc) and scheduling frequencies. Then in order to measure the value in these efforts, they review their shares, likes, comments, etc.
We like to think of these metrics as insights..
Because they're clear indications of how your audience likes to engage with you and what they appreciate. Your job is to seek any patterns then repeat those patterns. This system will help you develop a social media plan.
You want your plan to align with your audience and their interests. This align should contribute to the brand value development. But what type of result do you want with social media plan?
Start by answering these questions:
What platform is your audience ideal on now?
Are you in a position to invest time and money to this platform(s)?
Will your business objectives fit this platform?
Having clear picture of how your social media is currently performing will help you streamline your efforts.
Sign-Up For Our Mailing List
Develop a Social Media Marketing Plan

Every plan starts with a series of questions, information, and research. We provided a list of the preliminary questions to review:
What is working now?
What are your current challenges?
Which platform has the most engagement?
What post types have been working the best?
What are your competitors doing?
Who is your target market? How do they engage online?
These questions we guide you to your first few steps in developing a plan. Often times we witness businesses making their social media plan according to their competitors or trends. However, this isn't a good foundation. Using trends and competitor research as references is best. Your foundation is your own review of your efforts and how you can elevate them.
Two Social Media Issues Are Challenges & Planning Post Types
We've meet with hundreds of companies and the majority of them had a hard time identifying challenges with an effective plan of action. On top of that, they had no idea how to distribute or plan for a variety of post types. Meaning they didn't know when to use video to get a message cross or a meme, photo, even graphics.
Determining post types largely depends on the type of business you are in. If you're a lifestyle/health based company using photos and videos should be your priority. Customers want to see how to put things together and they want visual motivation.
Addressing social media challenges are different across the board however the most common issue we know of is not targeting the right audience. We made an entire strategy page to help you with this issue. If you aren't quite ready for strategic planning and just want the basic foundation for planning keep reading below.
How To Develop A Social Media Plan? What's Involved?

A social media plan is a guide with steps tp follow. We've created a listed guide below, by the end of this guide you should have a plan to take action on. Grab your team and notebooks.
Audit Your Current Social Media

If you new to social media you won't have anything to audit. So we suggest heading over to at least three of your competitors social medias. Observe their messaging, post types and frequency. Reflect on what you observed. What were the differences and similarities? Do you have the resources to start posting like them but with your own style? What does that look like? Reflect.

If you've been on social media for awhile now but you aren't getting the results you want, there a few things to audit. Review your post types and how many people have engaged with that particular post type. The reason why this is so important is because your audience may like to see photos from you more than memes or video. So leverage that insight accordingly.

Next, what kind of messaging structure do you have? Are you always promoting your service or product? Or do you offer education or insight? Make a list of your ideal messaging that might better lead you to a customer. Keep in mind how you liked to be talked to/targeted.
Establish Your Goals

Your plan should be a reflection of your goals. Don't know what your goals should be? Well most brands are trying to accomplish if not all listed below:
Increase Brand Online To Audience
Drive Traffic To Website
Generate New Leads
Create Sign Ups/Sales
Build A Community
Build A Customer Service Support
Increase Engagement

Which goal resonates with you? New more quality leads? Don't worry we made a page just for that. Click On This Link!Write out your top three goals.
Identify Your Audience

If you could put into four sentences who your ideal customer is, what are their characteristics? From how they shop, what they probably search online, how much income they make, what they do in their free time, etc. The reason you need to know your ideal customer is so you can market to them strategically. Spend some time to think about who you audience is and where they are online.

Create Your Messaging And Content

This exercise is very important. Make a list of 10 direct marketing messages and 10 creative social messages. You will use these statements as apart of your post strategy.

Every post you publish should be intentional. What visual assets can you produce? Meaning can you create an equal amount of photos, graphics, video, and memes/gifs? If you can't do all of these at once then opt for photos and videos. We suggest using helpful tools to design your content like Canva.com.
After you've answered each point review your answers. Now it's time to review the platform you want to start on and to review the various features. You next step will be to start experimenting with posts and letting people know you exist online now! With this plan you should be well on your way to creating a great social media marketing plan.
Now it's time for a celebration because you're done with this resource!
In the meantime... We would love to hear what you think about this resource, Leave us a comment below and let us know your thoughts!